Antarctica
. An Epic Exploration to the ends of the earth on board a private yacht charter. An expedition cruise to Antarctica is a truly remarkable adventure, a voyage to a pristine land of ice and snow, populated by an all-star cast of penguins, seals and whales. Photographers, nature enthusiasts and lovers of magnificent raw surroundings are drawn to Antarctica like seals to icebergs. The world's southernmost, driest, coldest and windiest continent is an incredibly rewarding world to visit. The best way to explore this paradise is on a private Antarctica yacht charter, where you'll have the freedom to go where you please, stay as long as you like and change course if you so wish. Considering you'll be disembarking a couple of times a day, it's infinitely easier and faster to discover Antarctica if you're aboard a private yacht charter rather than a large ship. In a place where every second on land (or ice) counts, ease of access, privacy and freedom are immensely important.
International flights are in and out of Punta Arenas. Private charter round trip to King George Island, Antarctica to board your private yacht. For the best private Antarctica Expedition Charter, include at least 1 helicopter and 1 submarine for the most interactive ice experiences, along with the finest Antarctica Expedition Leaders and Naturalists. We suggest two remarkable options, one will accommodate 12 guests and the other 22 guests. Group ships can be arranged as well. For the VV Best, round up family and friends and enjoy an unrivaled private Antarctica Expedition Charter. A two-hour flight from Punta Arenas will drop you on the seventh continent, where you board your private yacht. This is the best way to see Antarctica, in private luxury.
Offering
two exceptional yachts,
a 252' Expedition Yacht for 12 Guests with 2 Helicopters and 1 Submarine on board. The second yacht is a 253' Expedition Yacht for 22 Guests with option to add 1 Helicopter and 1 Submarine.
DAY 1 KING GEORGE ISLAND. Arrive at King George Island by private charter flight and board your private yacht and set off in 24-hour sunlight for Antarctic Sound to anchor. Antarctic Sound is nicknamed "Iceberg Alley," where you may discover enormous tabular icebergs that break off from the Ronne, Larsen and Filchner ice shelves. Antarctic Sound is a wild place with its cathedral-like icebergs and glaciated mountains of Trinity Peninsula imparting a distinct appearance unlike any other part of the world.
DAY 2 ANTARCTIC SOUND. If weather allows take helicopter trips to land on Snowhill Island to watch and mingle with the amazing Emperor Penguin colony. Native to Antarctica, the Emperor Penguin is the emperor of all penguins, sometimes weighing over 100 pounds. Laying only one egg at a time and only living in Antarctica, this colony is one of the few Emperor Penguin gatherings this far north in Antarctica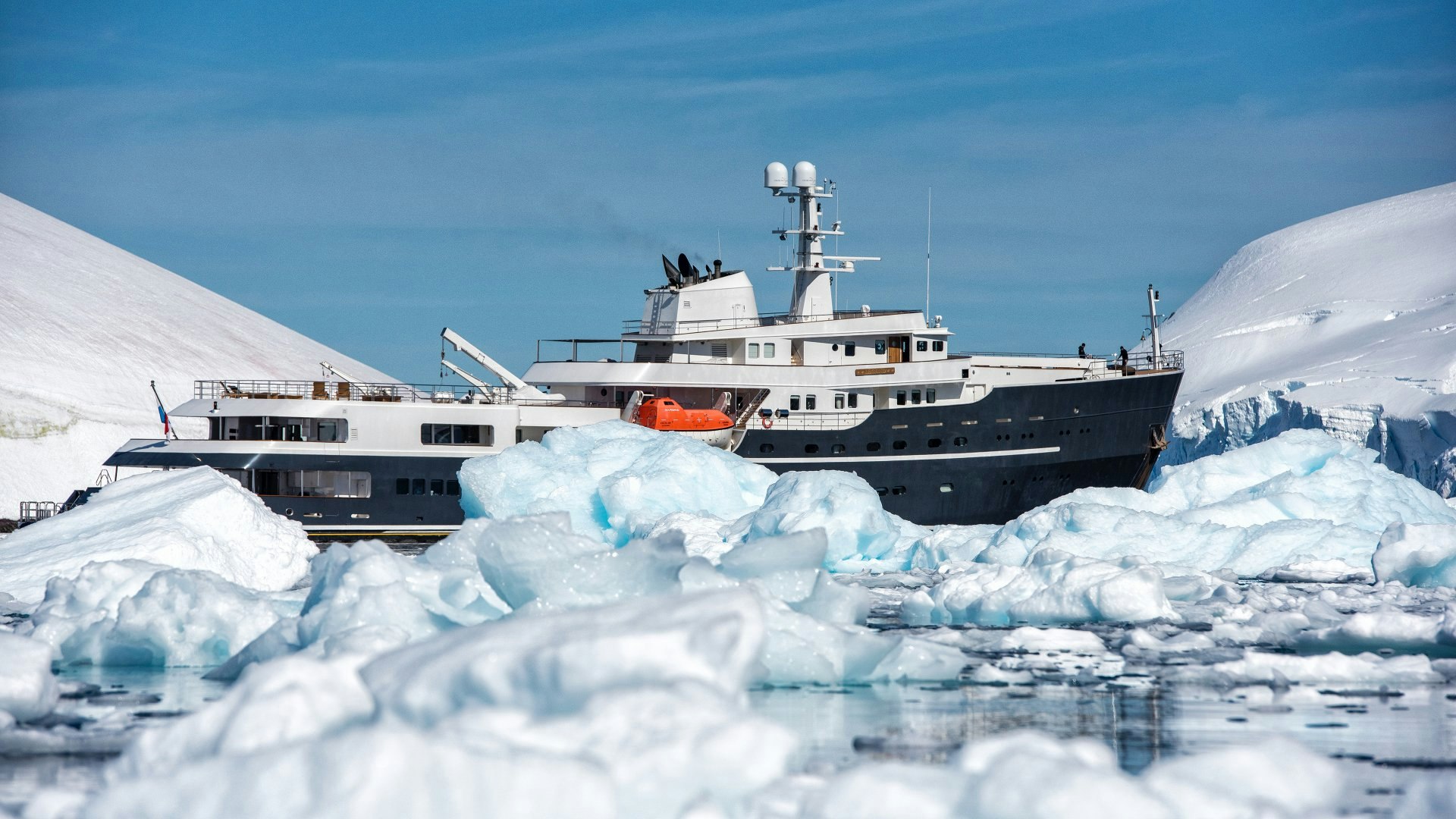 DAY 3 Cruise along TRINITY AND SPERT ISLAND. Explore Trinity Island and look for Antarctic wildlife including Chinstrap and Gentoo penguins. Spert Island has displays of amazing rock formations carved by ice. Cruise towards Enterprise Island, searching for Humpback and Orca Whales. Watch Humpback Whales in the age-old dance of bubble net feeding to corral krill. DAY 4 Visit ENTERPRISE ISLAND & GERLACHE STRAIT. Explore the wreck of Norwegian whaler ship, Governoren which burned on January 27th, 1915, having just finished an arduous whaling season with tanks full of whale oil. Customarily at the end of the whale season, the fishing crew celebrated with a party; a lamp was knocked off a table, with so much oil on board, a fire quickly grew out of control. The Captain set the ship on land in Foyn Harbor, Enterprise Island, where the crew of 85 abandoned ship, the ship completely burned leaving the ruin left today. Cruise Gerlache Strait to Cuverville Island for sea kayaking and paddle boarding through a massive colony of penguins and Seals. DAY 5 Cruise to NEUMAYER CHANNEL & PORT LOCKROY. Cruise through the iceberg filled Neumayer Channel to anchor in Port Lockroy, an old British Antarctica Scientific Base, which is now a designated Historic Site. Hike ashore around Port Lockroy. Visit Palmer Station the U.S. Antarctic base, which is the northern most U.S. base in Antarctica, keeping an eye open for Leopard Seals and Adelie Penguins
DAY 6 Cruise along LEMAIRE CHANNEL to visit the VERNADSKY BASE Watch for whales while cruising along the 'Kodak Gap.' Head ashore to visit the Vernadsky Research Base where the hole in the ozone layer was first discovered. This is now a Ukrainian Research Base, where there is surprisingly a small bar, the southernmost bar in the world. Warm up and enjoy a rare tasting of the onsite distilled bathtub vodka while watching wild penguins. Nowhere else in the world! DAY 7 Visit PARADISE BAY before cruising to NEKO HARBOUR. Explore amazing Paradise Bay, once home to two active research bases: Argentina's Almirante Brown Antarctic Base in operation since 1951 (only open in summer since 1984) and Chile's González Videla Antarctic Base, active from 1951 to 1958, and briefly in the 1980s. A nearby shelter has been designated a Historic Site. Around Paradise Bay, encounter massive ice floes reflecting amazing shades of blue and green, while keeping an eye out for seals and Gentoo Penguins and the occasional whale. Later in the day cruise to Neko Harbour, home to Minke whales and Weddell seals and enjoy a sea kayak adventure paddling through a quiet channel to an unnamed island deep in the channel. DAY 8 and 9 Cruise to DECEPTION ISLAND. Explore volcanic Deception Island, home to an old whaling station. Called Deception Island due to the fact that the island is actually the caldera of a still active volcano, and recent eruptions have seriously damaged local scientific stations in 1967 and 1969. Inhabited by a scientific outpost of Argentine and Spanish research bases. Enjoy a unique warm water Antarctica swim in the geothermal waters in the caldera. Visit the large Chinstrap penguin colony and watch for whales and seals. DAY 10 Cruise back to KING GEORGE ISLAND to overnight
Day 11 Private charter Plane flight from King George Island to Punta Arenas, Chili. The wildlife of Antarctica is as captivating as its surreal wilderness, with colonies of penguins, sea lions and elephant seals basking in its refreshing bosom. Of all the hardy creatures who call this place home, the most enticing to admire are Emperor penguins, as well as humpback and killer whales. There are few places on our planet – and so few animals – which have the ability to make humans feel so immensely insignificant. So waddle among colonies of sea lions and penguins, kayak along the edge of enormous ice fields, hike atop hills for inspiring views and dive the freezing deep-blue waters of this fantastic destination aboard your private charter.
For discerning adventurers who set their hearts on experiencing the most breathtaking place on earth, there could be no better adventure.
The Journey consists of cruising between Islands and the western coast of the Antarctic Peninsula, sailing along ice-filled fjords resting amid stunning icebergs, the scenery is complimented by seabirds, penguins, seals, and whales. Day trips by Zodiac allow you to explore the landscape with your expert guides to interpret the wildlife and illuminate the history and the many marvels of the Antarctic environment.
The vistas are vast and the ice in your cocktail may have been fractured from a polar ice cap – what more could an adventurer ask for?
Jetting so far south is the perfect occasion to include a stop in South America – hop down the long and lean country of Chile from the Atacama to Patagonia before setting off. Life is filled with contrasts and this is the perfect combination of contrasts!